2009 BLOG & RESULTS
REMEMBER TO 'REFRESH' TO SEE THE MOST RECENT UPDATES (HOLD DOWN CTRL AND CLICK ON YOUR REFRESH BUTTON)
---
THE END IS NEAR! PARTY TIME.


Sept 1, 2009

Let's hope the rain hold off for the final race of the season! It's going to be a bit shorter anyway so you will be out and back in no time. Then it's off to the Rocky Mountain Flatbread Company for the series party!

We still have approximately 15 tickets left for the party so come early to registration to buy one.

Results from race number 9 are now posted as well. Great to see another 60 paddles out.

All our kayaks are now booked but we have one canoe left. Ecomarine is renting boats for this one so give them a call to reserve a boat.

See you al on Thursday!
---
RACE NUMBER EIGHT IN THE BAG


August 6, 2009
photos by Kelli Power

It was another fantastic night to be on the water. 56 paddlers hit the water with a solid contingent of first timers taking part in the Little Chop. Once again, it was Chris Dobrovolny clocking the fastest time followed closely by John Markez.

Ryan was manning the BBQ and cooking up the post race smokies. We also had a cooler of cold beverages that seemed to be a hit with the racers. Of course, everyone stayed for the heaps of draw prizes.

There are only two more sessions of the Big Chop and tickets for the Series Party are now on sale. We sold a bunch of them tonight and the rest will most likely go at race #9. Tickets are $15 each and include pizza and salad at the Rocky Mountain Flatbread Company.

Thanks to everyone for coming out! See you at the next one.
---
BRING PRIZING FOR THE PILE!


Wednesday, July 15, 2009
photos by Roger Krygsveld

For some reason, I forgot to post the results for Week #5 and now I'm late on Week #6! Sorry! But to make up for it, I have added a whole bunch of photo galleries. Look to the right beside the Results and there are photo links for Race #2, #3, #5, and #6. When I get a bit more time, I'll work on adding images for Race #1 and #4.

The Big Chop continues to draw many newbies in addition to all the regulars. The MEC pre-race clinics continue to run at full capacity and requires bookings weeks in advance.

Thanks again to all our amazing sponsors and volunteers for their continued support. Special mention this week goes out to Ross Hales at Stohlquist for bringing out his gas powered blender. Also, it's great to finallly have the Helly Hansen prizing on the table. And thanks to Brian and Trista for donating the movie gift certificates!

If you have something from home or from the company you work for, please feel free to bring it and add it to the pile!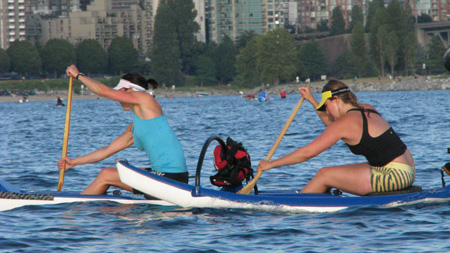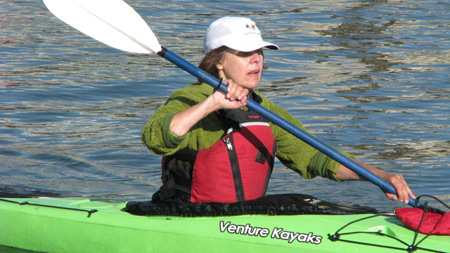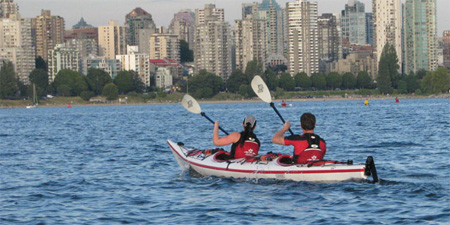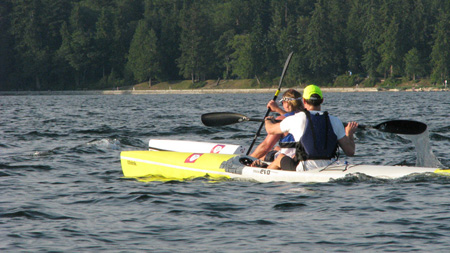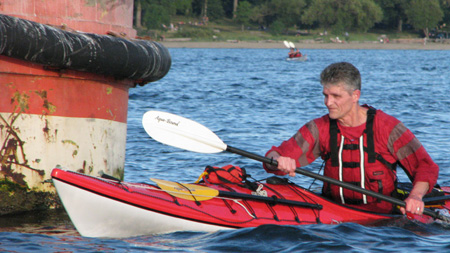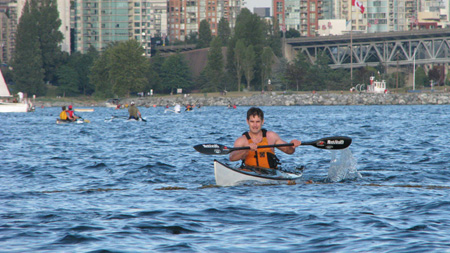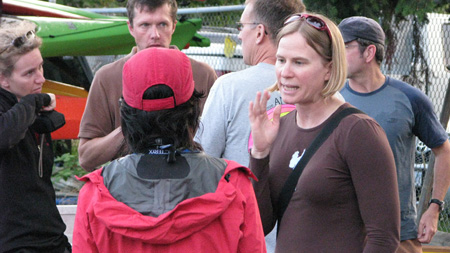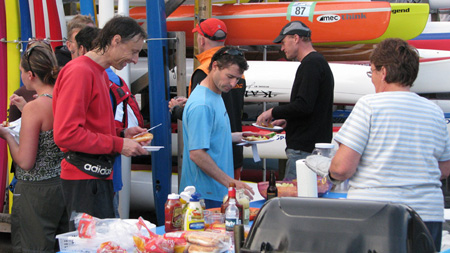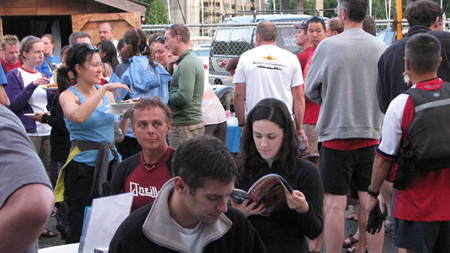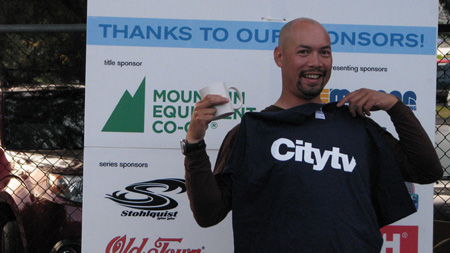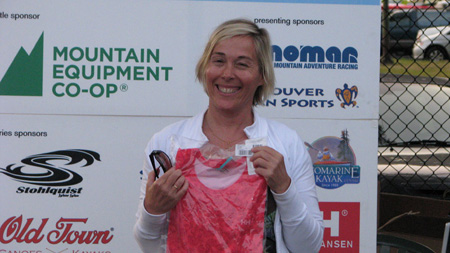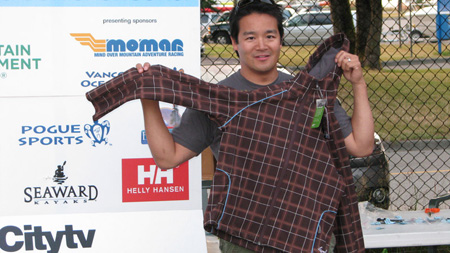 ---
DID YOU MISS ME?


Tuesday, July 7, 2009
photos by Roger Krygsveld

Sorry to have missed race #5 of the Big Chop Summer Paddle Series. I was offered a free entry to the Coast Capital Savings Charity Golf Tournament at Northview and I couldn't pass that up! Thanks to Ryan and the rest of the Big Chop volunteer crew for running the race without me!

Here's a great, but tragic, photo of someone breaking their wing paddle.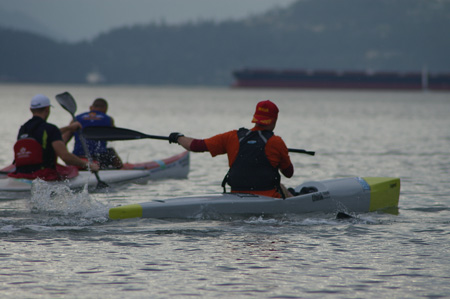 ---
THE FUN TIMES JUST KEEP ON ROLLIN'


Thursday, June 11, 2009
photos by Roger Krygsveld

The mouth of False Creek was filled with Big and Little Choppers with all levels of paddling abilities from the super pro like national level paddler, Dion Maxwell, to first timer like Melissa and Emily.

I'lll add some photos next week when I'm back from a weekend vacation...
---
HOT AND SUNNY. JUST HOW THE BIG CHOPPERS LIKE IT.


Saturday, May 30, 2009
photos by Roger Krygsveld

American, Eric Moll, was in town and dropped in on the Big Chop to show us the power of the paddle south of the 49th. Another 60 paddlers followed in his wake all motivated to get to the finish line and chow down on a post race smokie. Moll finished the 9km course in 43:47 followed by Deep Cove Kayak owner, Bob Putnam. Carolyn Daubney made her first appearance of the season and was the fastest female across the line. It was Bob Price and Mae Segar who took home the Little Chop crown.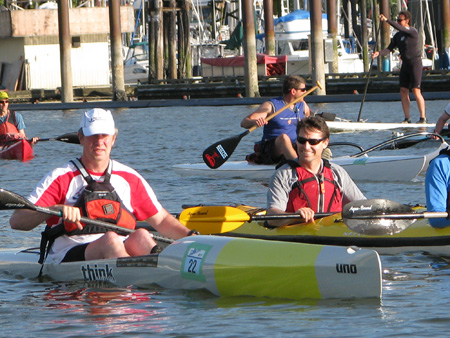 Bob Putham and Tim Bennett on the start line.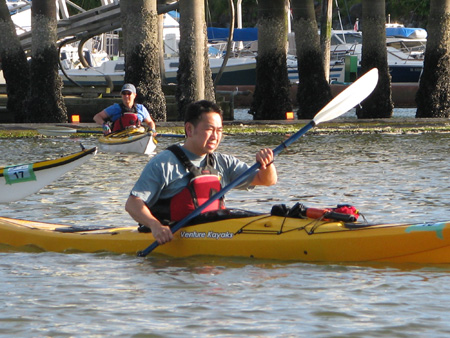 Johnson Chu takes on the Little Chop.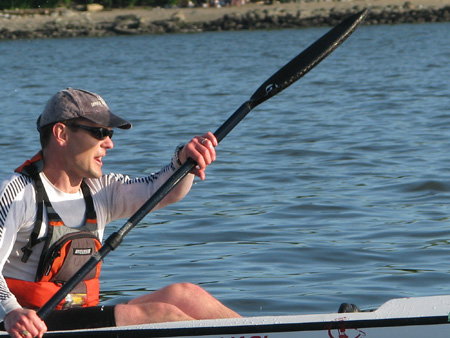 Eric Moll from Washington State was the fastest guy on the water.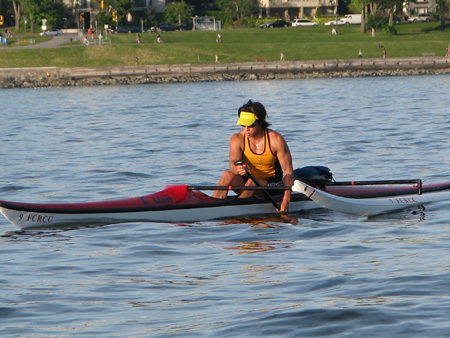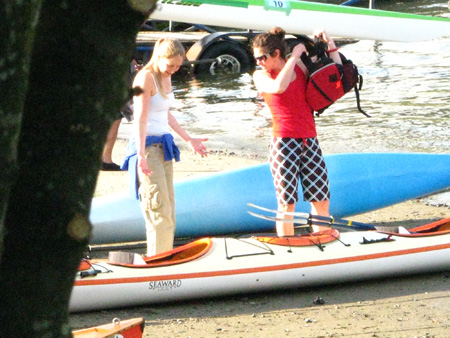 Liz Scott and Kimberly Hall getting ready for the Little Chop.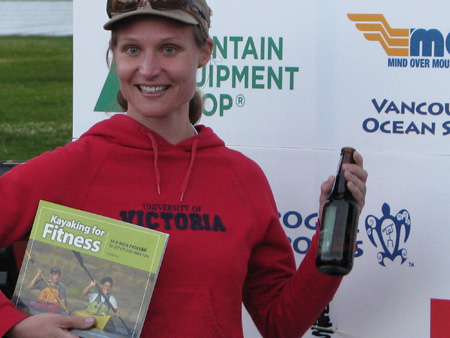 Sheila Jonnes wins the Kayaking for Fitness book donated from Ecomarine Kayak Co.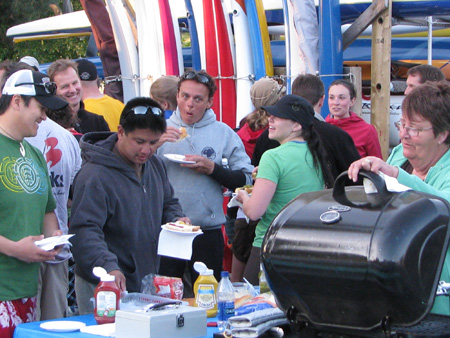 |
Smokie time!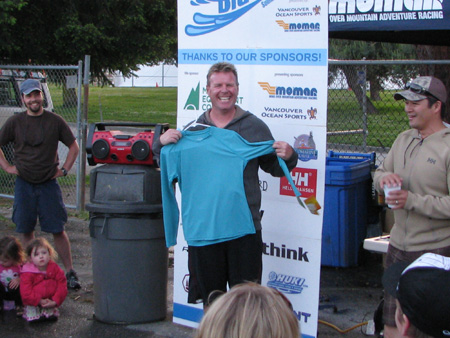 George Power wins a tech top donated from MEC (I think it will look better on his wife, Kelly, though)
---
SMOOTHIES, HOTDOGS, AND SOME PADDLING


Friday, May 14, 2009
photos by Roger Krygsveld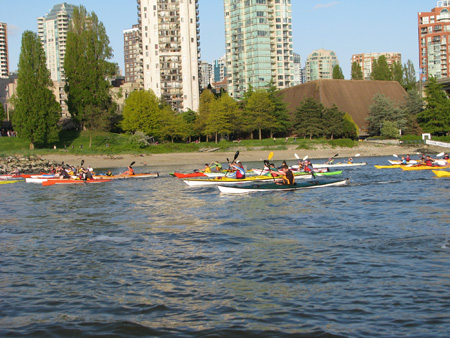 We were all sad that the Canucks lost to Chicago, but at least people weren't conflicted over what to do on a sunny Thursday evening. We had 60 eager paddlers on the start line including seven year old Olivia Kelly and a Stand Up Paddle Boarder, Dale Rollins. Stolhquist's Ross Hale was back with his gas powered blender making everyone post race smoothies while Robyn was on the BBQ cooking up a feast of hotdogs.
We had a whole bunch of first time Big Choppers who survived the challenges of the Little Chop Course which took them out to Second Beach and back. Chris D was the speediest guy on the Big Chop course edging out Warren Bruce and Gary and Marshall in the double surfski.
A special thanks goes out to all the volunteers tonight! Thanks Robyn, Roger, Stu, Dave, Deanna, Kelly, George, and Graeme! And another shout out goes to all our sponsors especially those that made it out to paddle and show their spirit!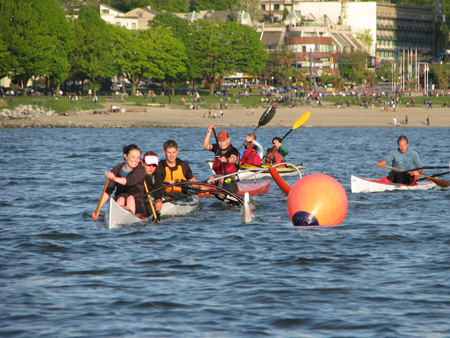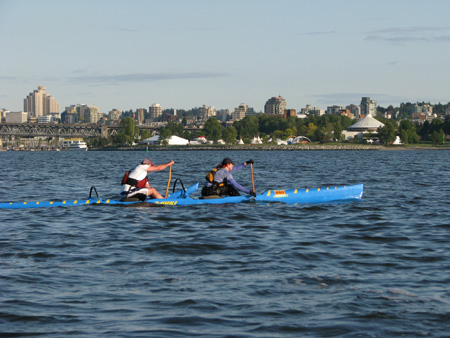 Great shot with the Planetarium and the Vancouver Children's Festival in the backgrond.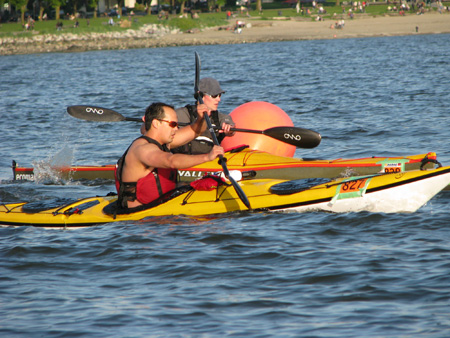 Greg Smith battles Michael Callahan from Ecomaraine around the bouy.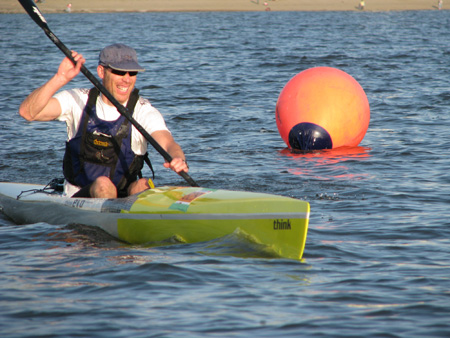 Chris Dobrovolny paddles his Think Evo to first place.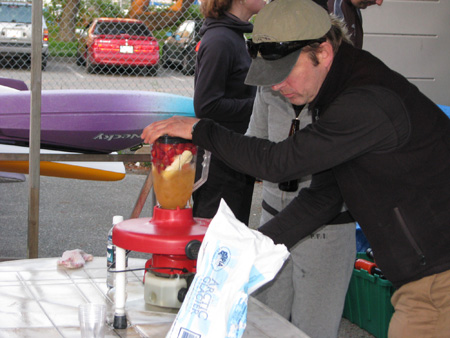 Ross Hales from Stohlquist mixes up a smoothie!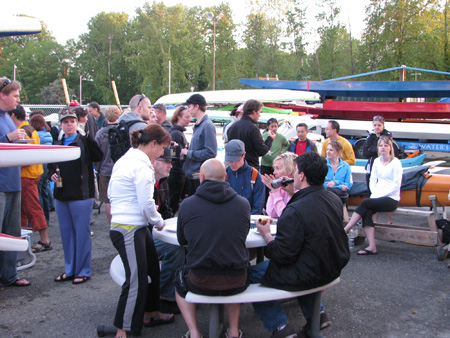 The Big Chop is fun and social.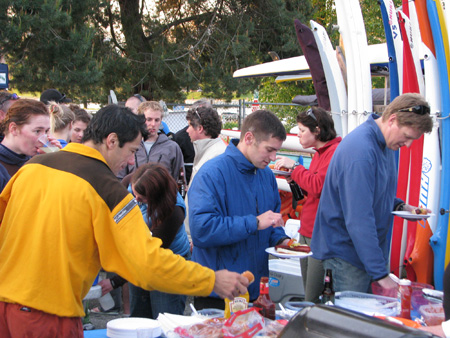 Ryan Ulansky loads up his hot dog.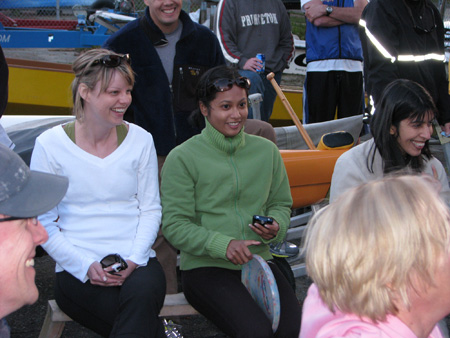 Big Chop Newbies with their prizes.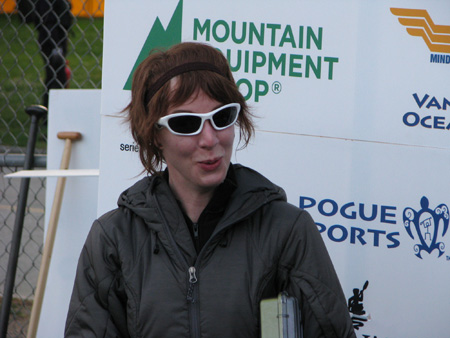 The winner of the Ryders Eyewear.
---
THE BIG CHOP TAKES ON THE CANUCKS


Thursday, April 30, 2009

Despite going head to head with the Canucks vs Blackhawks in game one of the playoffs, we had a solid turnout of paddlers for the first race of the MEC Big Chop Summer Paddle Series. 51 non-hockey fans ( ;0) ) took to the waters in either the 4km or 8km paddle race and it was France's Jean Rillard who won tonight's event. You can find the results are on the right sidebar.

Highlights of the night included Stohlquist's Ross Hale making strawberry smoothies using his gas powered blender followed by the large turnout of first time Big Choppers!

The next race is on May 13th. Remember that you can purchase a Season's Pass for $80 next week and it includes a Helly Hansen Lifa Cool tech top valued at $40.

Thanks to our sponsors, volunteers, and you the racer for coming out and supporting the Big Chop!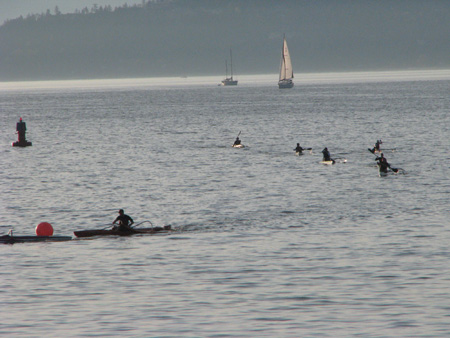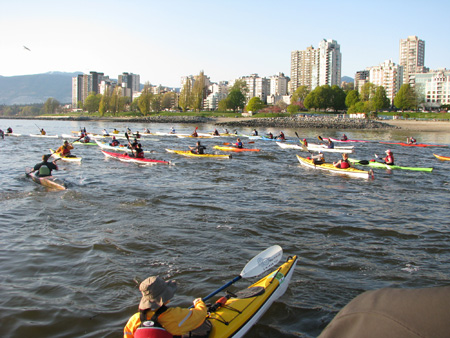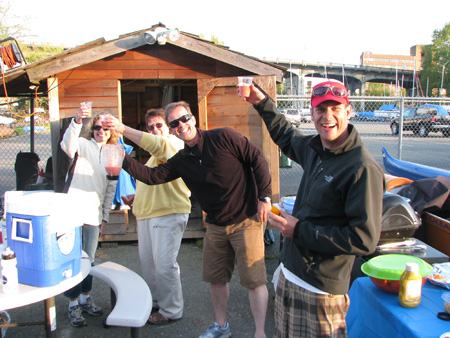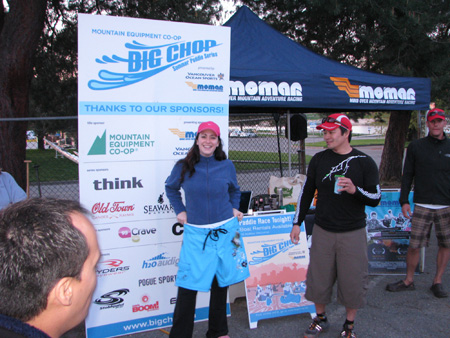 ---
CITYTV VISITS THE BIG CHOP


Monday, April 27, 2009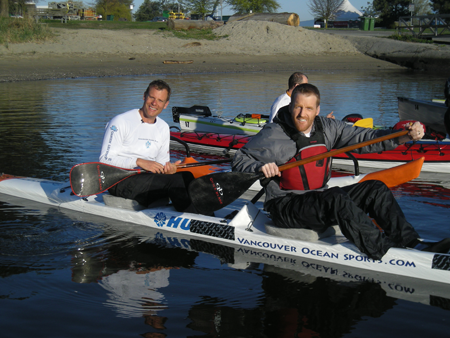 CityTV's Breakfast Television reporter, Greg Harper, was out learning to paddle at the MEC Big Chop Summer Paddle Series promo this morning. It was a beautiful day on the water as we simulated the Big Chop for the morning viewers.
Big THANKS to the crew at CityTV for the feature and to Stuart, Gary, Mark, Morgan, Steven, Kimberley, and Amanda for being our 'extras!'
See you on Thursday for the first race of the series!
PS All the double kayaks are booked up but you can rent one from Ecomarine Kayaking for the same rates. It's a short walk to get your boat and a quick warmup paddle back to the Big Chop beach. Call Ecomarine at (604) 689-7575.
---
WELCOME ECOMARINE!


Wednesday, March 4, 2009
| | |
| --- | --- |
| | The MEC Big Chop Summer Paddle Series is please to welcome Ecomarine Kayak Centre to the team of sponsors. Ecomarine will join us as a prizing sponsor and with that comes even more great prizes to add to the heaping table of goodies every week. AND at the final race/party, the will be offering a grand prize package featuring a kayaking season's pass, allowing the winner to use a kayak 2 hours per day for an entire year from date of 1st paddle! This is an over $500 value! |
For over 29 years Ecomarine has focused on supporting Vancouver's passion for paddling. The retail store on Granville Island offers a complete selection of boats, gear, and accessories for any kayaker. Whether you are a first-timer or an experienced paddler, Ecomarine has exactly what you are looking for. They also have an ocean kayaking school where their goal is to make a positive difference in people's lives through paddling. We are constantly sharing with others what we know in an effective and supportive environment. Our small class sizes, passionate staff and excellent facilities combine to make learning kayaking easy and fun. Get started on your paddling journey. Get kayaking with the specialists at Ecomarine. Stop by for a browse while you are on the island. We look forward to your visit!
---
2009 SEASON ANNOUNCED!


Monday, January 26, 2009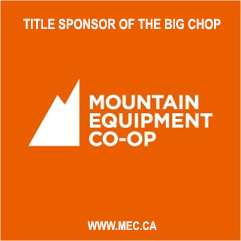 Mountain Equipment Coop is back on board for another year and that means that we are a go for year three of the MEC Big Chop Summer Paddle Series!
The new 2009 race schedule has now been posted to the website so you can save the dates in your calendar. We will be spending the next few months getting all of our other sponsors secured so we can have a heaping pile of draw prizes at each race.
If you know of a company that may want to join the Big Chop sponsorship team, please feel free to send them our way!
---
---
Copyright © 2010 Mind Over Mountain Event Co. Ltd. & Pogue Sports Inc. All right reserved.