BLOG & RESULTS
REMEMBER TO 'REFRESH' TO SEE THE MOST RECENT UPDATES (HOLD DOWN CTRL AND CLICK ON YOUR REFRESH BUTTON)
---
ONE HAPPY KAYAKER


Monday, November 24, 2008
Brian Page finally got his hands on his brand new Seaward Infiniti kayak this past weekend. Brian won the prize at the final race this year. Big thanks to Jacquie Ree from Seaward for bringing the boat over! And another BIG thanks to Seaward for sponsoring this wicked prize.
---
SEASON 2 OF THE BIG CHOP COMES TO AN END


Sunday, Sept 14, 2008

We had a huge turnout for the final Big Chop of the season. The start line featured 70 boats and 98 total paddlers -- the most by far we've ever had over the past two years! The race was a short 6.5km for the Big Chop and 3.5km for the Little Chop. We kept it short so that we could get to the party at the Rocky Mountain Flatbread Company where we had heaps of prizes to give out.

We had a few new faces competing at the front of the pack today. Dion Maxwell and Graham Smith finished first and second followed by six time Big Chop winner, Shane Martin. You can read a good post race report on the Surfski BC blog that details the action from the fasties.

The Big Chop would like to give a BIG Thank You to all the racers, volunteers, and sponsors for making the year an incredible success! We truly appreciate all your continued support and we look forward to see you next year!

Thank you!!!

A great shot of the start line in front of the Burrard Street Bridge.

Ryan Pogue in Safety Boat #1 with Dave and Deanna in Safety Boat #2.

Around the Green Can

Stanley Park and the North Shore Mountains in the background.

Six year old Olivia Kelly and her dad, Matt, paddle the double surfski to a second place finish in their category.

The peleton in the sunset.... nice...

And now... on to the Party!!! Check out the two tables filled with prizes.

Sarah Goring wins the $500 shopping spree to Helly Hansen.

Fred Rouquet from France wins the last Stolhquist PFD.

Calvin, aka Paki Nui, may not be that photogenic but he sure can paddle ;0) -- Paki was the first Outrigger to cross the line.

A very happy Brian Page wins the Seaward Infiniti Kayak.

Brian Page donated his old Windsurfing board as a draw prize. Karma.

75 year old Florida Town was at half the Big Chops this year. Here she shows off her Helly Hansen shirt prize. Husband Hugh patiently waits for his new t-shirt...

Jeannette wins the Accent Wing Blade paddle to go with the Stohlquist PFD she won earlier in the season.

Look to the back and you will see Gary Cassulis holding up his Accent paddle prize... I had just called his name for the Think Kayak prize but because he already won the paddle, he wasn't eligble... poor guy...

But Gary's loss meant that Na'ama Yehezkel was the big winner of the Think Evo Surfski. Think's owner, Darryl Remmler was on hand to personally award her the prize.

And the final prize of the night was the MEGA MEC PRIZE PACKAGE valued at over $1000. Camillia Brinkman from MEC awarded the prize to Big Chop regular Ryan Ulanski.
---
THE FINAL MAP ...


Thursday, September 11, 2008

Ryan Pogue has finalized the course map for tonight's race. He made it a bit shorter for the Big Chop so that we can get to the party that much quicker! Click here to view the map (PDF 1.6mb)

Remember to bring your party ticket with you!!!

All the double kayaks are now completely booked but we do have two canoes available. If you really want to paddle a double kayak, you may want to give EcoMarine on Granville Island a call and rent one from them. It's a very quick paddle from their location to the race start. You will have some added logistics but it shouldn't be that bad.
---
PADDLING, PARTYING, AND PRIZING... OH MY...


Monday, September 8, 2008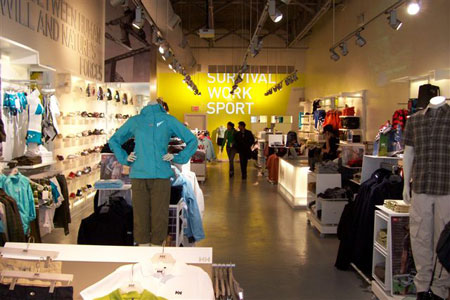 You could win a shopping spree at Helly Hansen!
We are just a few days away from the final race in the MEC Big Chop Summer Paddle Series and the year end party! The season has flown by and it has been another great year of paddling down at Vanier. The party will be a great way for all of us to celebrate with a cold beer, pizza, and a massive amount of draw prizes!
Here's a summary of what we'll be giving out in draw prizes on Thursday:
MEC MEGA PRIZE PACKAGE - It's been described as 'everything but the boat' and it includes: - A carbon-fibre Lendal paddle; a PFD; MEC neoprene gloves, shorts, vest, and booties; MEC Paddling Jacket; and a MEC Mesh Duffle to put it all in! Total value over $1000.00!

HELLY HANSEN SHOPPING SPREE - A $500 shopping spree at the Helly Hansen store on Graville Street.

THINK EVO SURFSKI - valued at $2400!

SEAWARD INFINITI KAYAK - valued at $2300

TWO ACCENT WING BLADE PADDLES - valued at over $320 each

Plus we'll lots of other great prizing like PDFs from STOHLQUIS, sunglasses from Ryders Eyewear; cable locks from LASSO; a blender from GSI; boxes of Carb-Boom gels, MOMAR gift certificates, H20 Audio gear, Old Town Kayaks shirts, Rocky Mountain Pizza Co gift certificates, and much much more!!!
You need a ticket to come to the after-party and WE ONLY HAVE 20 TICKETS LEFT. You can reserve one by emailing info@bigchop.ca and then you can pick them up before the race starts. Tickets are $10 each.
---
9 DOWN... ONE TO GO...


Thursday, August 21, 2008

Jeff Raymond paddles his THINK ahead of Sean Gibson and John Markez (photo by Roger Krygsveld)
The clouds parted just in time for the penultimate race of the series. A spirited crowd of 56 paddlers took on the Big Chop tonight with a good mix of sea kayaks, outriggers, surfskis, and dug out canoes.
Shane Martin won the race and is now six for six. Carolyn Daubney also had an strong race and was the top solo female.
It was great to see Fran and Nan back for their second time paddling ever. Tyson Brooks brought out Na'oma and it was her very first time paddling. Elaine Rutter was another newbie and finished the Little Chop in great spirits.
Six year old Olivia Kelly was back paddling a double surfski with her dad Matt. Olivia's mom, Michelle White, was also out and raced in a OC2 with Jacqualine McAra. Olivia beat her mom by two minutes! Olivia also won another draw prize bringing her total up to three weeks of winning.
Tonight's BIG THANKS goes out to Robyn Pogue who has been cooking up all the hot dogs and fried onions for the season. Tonight was her last night of BBQ'ing since we are going for pizza for the final race.
More photos coming soon!
---
QUICK NOTES FROM THE ORGANIZERS...


Monday, August 18, 2008

Please note that all of our DOUBLE KAYAKS ARE ALL BOOKED UP. We do have single boats available as well as the canoes. To reserve, please email info@bigchop.ca.

Also, remember that tickets for the Series Party will be on sale at this race. Tickets are going fast and we expect this event to sell out. For more info on the shindig at the Rocky Mountain Flatbread Co., go to the Race Info page for details.

This will be the last race for the smokies! We'll try to order some more for you hungry eaters. We'll have some beer in the cooler but you may want to bring a few of your own (or a communal case) since some of you seem to be having more than one.
---
RACE #8 - WHOLE LOTTA NEWBIES. WATER WAS BROWN.


Friday, August 7, 2008

Arleen Pogue (in green) and the MEC staff gives some instructions before the race to the newbie paddlers on where to go.
Over 50 paddlers took on the eighth session of the MEC Big Chop Summer Paddle Series including an unusually large contingent of newbie paddlers in the Little Chop course.

Carolyn Daubney leads out the pack and was the fastest solo female paddler out tonight.
The water was a very gross brown tonight so it's a good thing that no one from the Big Chop flipped tonight. Although we did see one OC6 'huli' right at the dock as they were finishing their paddle.
It was Shane Martin winning his fifth race of the season by a fairly large margin. The battle for second was a good one though with Bob Putnam from Deep Cove Kayaks, Jeff Raymond from Think Kayaks, and last year's series winner Chris Dobrovolny all hammering it to the finish line with Raymond edging out Putnam by a boat length (photo above).

Karni Daniel came all the way from Australia to take part in the Big Chop.
The newbies did really well in the Big Chop and although they looked a bit tentative at the start, they came into the finish looking really pro. It was Eileen Bistrisky and Tyson Brooks that paddled their Seaward Passat across the finish line first.

Ecomarine's Michael Callahan, Sean Gibson, and Jeff Raymond share a cold beer from Lighthouse Brewing Co.
Volunteer Robyn was solo tonight on the BBQ and cooked up another amazing feast of smokies with fried onions and a great selection of condiments. I also brought out two flats of beer from Lighthouse Brewing Co. that I had left over from my last Mind Over Mountain Adventure Race in Shawnigan Lake.
Almost everyone stuck around until the end for another table full of draw prizes. Tonight we had some new schwag from Think Kayaks too and Gary Parsons from the Oceanman race gave away an entry to his race at the end of the month.
Over half of the tickets for the Series Party at Rocky Mountain Flatbread Co. have been sold. Another chunk, if not all, should go in week #9 so please come prepared to buy your tickets if you haven't already. Remember that you have be at the party to win any of the prizes! And remember that every time you enter a Big Chop, you get one entry in the draw box!

Product placement... Helly Hansen Lifa top, Lasso Security Cable, Old Town t-shirt, Think t-shirt, Ryders Eyeware...

Everyone went home with some free razors from Schick Xtreme3 including first time paddlers Emma and Niki.

First time Big Choppers: Fran, Earladeen, Adam, Nan, and Karni
Thanks to everyone for coming out! A special shout out to the volunteers whom I forgot to acknowledge during the awards!!!
---
GET READY TO PARTY! ROCKY MOUNTAIN FLATBREAD CO TO HOST THE SERIES FINALE PARTY AND AWARDS


Monday, August 4, 2008
The Series Party and Awards is now all set! Rocky Mountain Flatbread Co. will once again be our hosts for the much anticipated Big Chop Shindig! Here are the details... Please pay special attention to the fact that we are only selling 80 tickets on a first come, first serve basis. This WILL sell out early because anyone with a good head for math will realize that the a 1 in 80 chance of winning of the major prize packages is pretty darn good!
WHEN: Thursday, September 11th, 2008
SCHEDULE:
6:00pm race registration opens;
7:00 race starts;
8:00 doors open
8:15 food served
9:00 award ceremony
11:30 end
VENUE: Rocky Mountain Flatbread Co.
1876 W 1st Avenue (between Cypress and Burrard), Vancouver, BC
* Click HERE for a Google Map
PRIZES: MASSIVE table prizes that will include the grand prize draw for a Think Evo Surfski, a Seaward Infiniti Kayak, two Accent wing blade paddles, and mega prize packages from Helly Hansen and MEC.
TICKETS: Tickets to the Big Chop Party will be $10 each which includes 4 slices of pizza and a chance to win over $8000 worth of draw prizes! Only 80 tickets will be sold so buy yours early to avoid missing out on the goodies. Tickets will go on sale on Race #8 (Aug 7th).
FOOD: A selection of pizza will be available but each person is limited to 4 slices each. Salads and other items will be available to order separately if you desire.
---
WEEK #7 - BIG TURNOUT FOR THE BIG CHOP


Tuesday, July 29, 2008

Sorry for the delay getting the results and photos up from last Thursday's Big Chop. I was away on the Island for the Mind Over Mountain Adventure Race in Shawnigan Lake.

It was great to hear that there was finally some nice summer weather to attract out a sizable crowd of paddlers for the 7th edition of the Big Chop.

Shane Martin was out and took home his 4th win of the series with Jeff Raymond close behind. Carolyn Daubney was the top female.

The next race is on August 7th. Be sure to reserve your kayak rentals EARLY because they are booking up really fast lately -- especially the doubles.

Colin from MEC helps get the rental fleet ready for the night.

Jeff Raymond in his Think kayak makes the turn on his way to a second place finish.

This one is for all the ladies...

Superstar volunteer, Shannon Marks, records the time.

Winner of the MEC sponsored prize package.

Six year old, Olivia Kelly, wins the Stolquist PFD. It might be a while before she grows into it though.
---
LE GRAND REMOU -- THAT'S "THE BIG CHOP" IN FRENCH


Saturday, July 12, 2008

Up the Creek with a paddle... First time Big Choppers and newbie paddlers, Erin and Stacey Creak paddle pass the Sandbar and the Arts Club Lounge.

BIG CHOP!!!

If you're going to wear a Helly Hansen Lifa top and paddle the Think Fit -- two of our Series Sponsors -- there's a pretty good chance you're going to get your photo on the Big Chop Blog! Here is Kris Lindal working it for our sponsors.

Tonight we had paddlers from France join us at "Le Grand Remou." Fred Rouquet (top left) and his two kids Tiska (top right) and Akiloe (in with Eileen Bistrisky) jumped in canoes and paddled the Little Chop.

Cathrine Zabroski and Dean Wutke have been using the Big Chop to train for the Gorge Games 24 Hour Adventure Race. The race will be taking place next weekend down in Washington State. Good luck guys!

Tonight was one of those nights we really were happy to have our safety boat out on the water. Thanks Dave, Deanna, and the Boys for all your help!!!

Team France... Akiloe, Fred, Tiska, and Eileen at the awards. Akiloe was the big winner of the night taking home the Accent Wing Blade Paddle.
---
HOLY BIG CHOP!


Friday, July 11, 2008

It was a true 'big chop' last night as the wind howled all day long. The surfskis and outriggers couldn't wait for the race to start while some of the kayakers were a bit nervous of all the whitecaps out west.

Ryan Pogue made the wise decisiion to go to Plan B and sent racers of the Big Chop and Little Chop into False Creek where the seas were much more calm. However, he gave the more ambitious paddlers the option to do a small loop out to the Red Can so they could play in the swells which created the "Really Really Big Chop" course option..
During the race, only Lannie Thelan went swimming (three times) and had to be brought in by our safety boat. The Coast Guard was also out there doing a total of eight rescues that night (not from the Big Chop!) and helped bring Lannie's boat back to the dock.
I'm tight for time so I'll post more photos later this weekend. But check out the photo above of little 6 year old Olivia in the big chop!
Results are posted on the right. Alan Carlson made his first appearance of the year and was the fast boat tonight.
Thanks to all the volunteers and sponsors for coming out and being part of the Big Chop!!!
---
HUMP NIGHT AT THE BIG CHOP


Friday, June 27, 2008

Last night's race marked the halfway point of the MEC Big Chop series. I thought this one would have been a hot and sunny night of paddling but we once again had cool temperatures just like every one of the past four. Still, a field of 40 paddlers took to the water including 6 year old Olivia Kelly and 75 year old Florida Town. Jeff Raymond dominated tonight's race and paddled his Think EVO to victory for the second week in a row. Thanks to everyone for coming out! Thanks to the volunteers! Thanks to the sponsors for loading up the prize table! And Thanks to the Happy Planet girls for coming out with the sample bottles of HP! Here are the photos taken by Roger and me (wasn't that a movie?).

Jeff Raymond in the wash of the safety boat.

Graeme Galves duals Brian Page and Trista Bilmer.

For the first time, we had a Polo Kayak take part in the Big Chop! Catherine O'Brien hot dogs at the finish line for the camera.
Just a quick summary of all the boat types we've had at the Big Chop... single kayak, double kayak, surfski, OC1, OC2, OC3, paddleboard, regular canoe, dugout canoe, marathon canoe, and now the polo kayaks? What are we missing? Whitewater kayak, row boat, pedal boat, driftwood log, ...

The prize table! New this year was the smoke salmon prize packages donated by volunteer Stu!

Snacks!

C is for Cookies.

The real reason the Big Chop is so popular...

Sheila "two N's" Jonnes wins the GSI Vortex hand blender. Maybe she'll make us some margaritas for the next Big Chop???

Jeanette Giboult wins the flashy Stolquist PFD.

Sarah, Jeannette, Paul, George, and Doug. Yes the Big Chop does have some free beer for the first 24 to the cooler... Since we only have 24, you may want to bring your own and share with your friends...
Another quick summary... for your race fee last night, Big Choppers got to race in the best city in the world, a free Carb-Boom gel, a smokie, chips, Happy Planet juice, pop, beer, cookies, oranges, ~1 in 3 chance in winning something cool from our prize table (over $750 worth of product given away every night). Wow... All for $8.00!!!! This is easily the best deal in town!!!
---
PADDLEFEST IN VANCOUVER JULY 6


Saturday, June 14, 2008
WHEN: Sunday, July 6, 2008
WHERE: Ambleside Park, West Vancouver
WHAT: Paddlefest is an urban celebration of kayaking, canoeing, and the ocean environment in BC. The day will feature learning opportunities on water and on land. Paddlers of all skill levels are welcome. This is a family-friendly event. It offers opportunities to test boats and equipment from various watersports manufacturers, and has something for every paddler, from beginner to expert.
MORE INFO: Click Here
---
TAKE THE BIG WILD CHALLENGE


Saturday, June 14, 2008

While surfing the MEC website, I came across the promo for The Big Wild Challenge. The site encourages people to create an adventure and post it on the website. The adventure must be a self propelled trip lasting a minimum of 24 hours in the wilderness with no fixed roof shelter.

So, if any of you Big Choppers have a trip planned this summer, this is the place to make it public. Maybe you have a paddle trip planned to the Bowron Lakes or in Desolation Sound?
---
RAYMOND BEATS PUTNAM BY A HAIR. 6 YEAR OLD PADDLES THE PASSAT


Thursday, June 12, 2008

55 paddlers took to the start line of the Big Chop. it was a better than expected turnout especially considering the crappy weather we've been having. Here are a series of great photos taken by Arleen Pogue. We'll see everyone in two weeks and let's hope for the hot sun!

Six year old Olivia paddles the Big Chop with her dad Matt.

Jeff Raymond in the yellow tipped Think Evo pulls a 'wheelie' as he battles Deep Cove Kayak's Bob Putnam to the finish line.

It was the first time the OC3 made an appearance at the Big Chop with Graeme, Kim, and Ryan.

Warren Bruce demos the Think FIT from our rental fleet.

75 year old, Florida Town takes home a big prize from MEC.
---
ROUND BOWEN ISLAND RESULTS


Tuesday, June 10, 2008

Congratulations to all the Big Choppers who took part in this past weekend's Round Bowen Island 32km paddle race.
---
3 FOR 3 SHANE IS STREAKING


Thursday, May 29th, 2008
I see a trend developing. For the last three races, Shane Martin has been the fastest Big Chopper this side of the Burrard Street Bridge. THINK Kayaks's Jeff Raymond is there right on Shane's tail but never past. How long can Shane go before we see a new boat first across the line? Keep up the strong paddling, Shane!
Now, the Big Chop is a race and everyone is moving fast out there, but for the vast majority of the 60ish paddlers, it's all about being on the water with some like minded people with a splash of competition, a mouthful of smokies, a swig of lemonade, and the hope of winning something for our HEAP of draw prizes!

Kim Burchby & Franzi Clarke in the OC2. Photo by Roger.
Having said that, Marshall House did lodge a formal complaint against Sean Gibson for some agressive moves at the finish line. But we didn't really listen to Marhsall so we awarded Sean with the biggest draw prizes of the night... the Accent Wing Blade Paddle! Marshall was joking of course, but if I were Sean, I would keep a close eye on the new paddle at the next race...
Thanks again to all the incredible volunteers, sponsors, and racers for your continued support of the Big Chop! Please tell your friends and encourage them to give it a try. The Little Chop is great for beginners and the MEC does offer FREE demos before every race night.

Safety boat volunteers Dave and Deanna in their new Helly Hansen staff jackets. Photo by Roger.
We'll see you in two weeks. And a reminder that if you want to reserve a kayak, you might want to do it soon as we booked out all the kayaks tonight.
Cheers, Bryan & Ryan

The prize table. Holy Schwag! . Photo by Arleen Pogue.

Sean Gibson with Co-Race Director, Bryan Tasaka was the winner of the Accent paddle. Photo by Arleen Pogue.

Sarah Goring wins the Garlic Sausage prize. Photo by Arleen Pogue.
---
COURSE MAPS NOW ONLINE


Wednesday, May 28th, 2008
Things are really getting organized at the Big Chop! Ryan has put together all the course maps for the rest of the season (excluding the finale) so go to the Schedule Page to check them out. Basically, there are three course routes and we'll rotate through them every third session.
The weather is looking good for tomorrow's race! I have some Edge drink samples to give out and some new Schick Xtreme3 razors.
AND the new Big Chop Helly Hansen tech tops will be making their debut. We will have a few extras to sell if you didn't get one with your series pass.
---
RACE #2 - RESULTS AND PHOTOS


Thursday, May 15th, 2008
Summer is here! The weather was so nice tonight and the harbour was alive with happy paddlers and drunks on boat cruises. We had 60 paddlers out tonight and I'm starting to worry that any more might make things a bit too crazy. But we'll cross that proverbial bridge when we get to it.
It was Shane Martin crossing the finish line first with Jeff Raymond right behind him. Big Chop's own Ryan Pogue and Graham Galves were the speediest OC2 and Lina Augaitis and Gary Cassilus paddled the Seaward Passat G3 to a first place in the double coed kayak category. The link to the full results are on the right.
It was good to see Bob Putnam from Deep Cove Kayaks out tonight along with his 13 year old son. It also seems like we are getting more and more MEC staff out taking on the Big Chop too! Awesome!
And talk about prizes! Tonight we had prizes from Helly Hansen and a wing blade paddle from Accent Paddles added to our already impressive lineup of amazing prizes. The Big Chop sponsors are the best!
Thanks to all the volunteers who helped out tonight! You guys are great!!! Special mention goes to Roger Krygsveld for taking all these great photos!
The next race is on May 29th. Remeber that we have two Think Surfskis for you to rent. If you want to try one out, just email me to book it... info@bigchop.ca.
---
DO THE BIG CHOP FOR A CHANCE TO WIN A KAYAK!


Saturday, May 3, 2008
Seaward Kayaks has once again donated a kayak for the season ending party!
The Infinity TX Thermoform kayak is a high performance kayak, with a multi-chine hull that delivers startling maneuverability, easy edging, and superb secondary stability. It cuts through the water with astounding ease. A built-in skeg lets you fine-tune turnability to the prevailing wind and wave state.

The Infinity's thorough and thoughtful outfitting makes for easier, safer touring.

The vacuum-formed thermomoulded acrylic / ABS plastic is both lighter and less expensive than fibreglass. It's much stiffer and better-looking than any roto-moulded plastic (though any repairs will be rougher and more conspicuous than gelcoat repairs on fibreglass).
Remember that every Big Chop you do, gets your named entered into the draw at the end of the season.
---
GET YOUR FEET WET AT THE MEC KAYAK DEMO CLINICS
Saturday, May 3, 2008
MEC is offering FREE demo clinics before every Big Chop to all newbie paddlers. The MEC staff (pictured above) to give you confidence on the water.
For all of you seasoned and experienced paddlers, please pass this info on to your friends and family and encourage them to come out and give paddling a try.
You must reserve your spot in advance by calling the MEC Service Centre at 604-709-6241. Please book early as space is limited and it does book up quickly.
---
BACK TO THE BIG CHOP. 50 PADDLERS KICK OFF SEASON 2 WITH A BANG.


Saturday, May 3, 2008

The MEC Big Chop Summer Paddle Series kicked off its second season with 50 paddlers on the start line, tons of draw prizes, and an after race social with smokies, lemonade, chips, and watermelon! Results are now posted on the right. Thanks to everyone for coming out and we'll see you on May 15th! Photo by Roger Krygsveld.

Wicked shot of Denise and Mike Billy in the dugout canoe, Leonara Chao and Mel Whital in the OC2, Sean Gibson in a surfski, and Gary Cassulis and Marshall House (hidden) in the Seaward Passat G3 kayak. Photo by Roger Krygsveld.

Two THINK surfskis battle it out with a marathon canoe. In the yellow Think EVO is Think's owner, Darryl Remmler. Photo by Arleen Pogue.

Stolquist/H20 Audio rep, Mel Whital has a laugh but Florida Town has her 'game face' on as they prepare for the start of the race. FYI, Florida is 71 years young and was last year's SERIES winner (female) of the Big Chop. Photo by Roger Krygsveld.

Big Chop in the dusk. Photo by Arleen Pogue.

Sarah Newman and first time padller, Jeanette Gibault, take on the Little Chop's 4km course in the Seaward Passat G3. Photo by Roger Krygsveld.

On Darrell Pearse's blog, he wrote this about his encounter with Todd McPhee and MEC's Mark Kelly's canoe...
"As I was coming into the final stretch of the course, I had caught a couple of guys in a canoe, who were doing the Little Chop, and they asked if I wanted to race. I thought sure why not. So the race was on. They started to increase their stroke rate, and I stayed with them. As we were getting closer to the finish, I decided to have some fun, and told them that its was time to start racing. They thought I was kidding because I think they were going all out as it was. So I just cranked it as hard as I could, and managed to just squeak past 13 kph, just before I died going over the finish line."
Photo by Arleen Pogue

First time Big Chopper, Timberly George, was the lucky winner of the very cool Vortex Blender from GSI. Photo by Arleen Pogue.
---
WHO WANTS TO WIN A SURF SKI???


Sunday, April 27, 2008
Your hands must be getting sore from having to clap so much for all of our great sponsors that have been joining the Big Chop series! Well suck it up because you have to clap REALLY loud for our newest Series Sponsor... THINK KAYAKS!
Think has donated an EVO model surf ski for the Grand Prize draw at the end of the season. This kayak is worth $2,400 retail and is available at MEC. For every Big Chop you race, you will get one entry into the draw at the Series Party.
Here's the Evo story:
The Think Evo offers the perfect blend of speed with comfort. At 20' 6" in length, fine entry and exit lines, and 19" of width, the Evo has all the speed you need to be in the thick of the competition. Glide is excellent, and when the swell is up, linking runs has rarely been so much fun!

The Evo has an amazingly comfortable seat and foot well for all day comfort during long training sessions or races. The foot board system has a micro adjust system, so getting the perfect fit is easy. Every detail is well thought out, with a separate reinforced leash attachment point when heading out on big days. Hardware is 304 grade stainless for long term durability, and our rudder lines use 600 pound test Q-PowerLine Spectra. Even the colors offer an extra edge in offshore safety.
Check it out at www.thinkkayaks.com.
---
GSI OUTDOORS JOINS THE BIG CHOP


Friday, April 25, 2008
We have another sponsor! Coming in at the Prizing Level, we would like to welcome GSI Outdoors to the Big Chop team of sponsors. GSI Outdoors is in the business of making cookware and dining products that adapt the comforts of home to active outdoor lifestyles at the campsite, base camp and anywhere in between.
In 1985, brothers Don and Ian Scott and sister Kathy started the company in San Diego and then moved to Spokane, Washington in 1995, where they have been ever since. In 2001, GSI Outdoors started distributing outdoor related gifts under the name of Outside Inside. What began as a small distribution company selling blue enamel tableware has expanded into the design, manufacturing, sales and marketing of an innovative array of outdoor cookware and a whole range of eating and drinking products that are technical, innovative and fun.
GSI Outdoor products are available at your nearest Mountain Equipment Coop.
---
WELCOME NEW SPONSORS!


Monday, April 14, 2008

We would like to welcome Ryders Eyewear and Crave 95.3 to our team of sponsors. Ryders is on board as a prize sponsor so after each race, one lucky paddler will win a pair of sunglasses.

Crave 95.3 is Vancouver's best music station playing all your favorite tunes. Crave will be helping us spread the good word about the Big Chop and hopefully we'll see twice the number of boats on the water.
---
STAY HH COOL THIS SUMMER WITH LIFA COOL


Tuesday, April 1, 2008
Helly Hansen is now a proud Series Sponsor of the MEC Big Chop Summer Paddle Series. Every paddler who signs up for the entire series will receive a LIFA COOL tech top screened with the Big Chop logo. You can also try your luck with the post race draw prizes where we will be giving them away to one lucky winner. And Helly Hansen will be packaging a big prize pacakge for the final race of the season. Check out Helly Hansen at www.hellyhansen.com to see their full product line up.
---
CITYTV, CITYTV, CITYTV!!!


Friday, March 28, 2008
We would like to welcome Citytv to the Big Chop team of sponsors. Watch Citytv for all your favorite shows and movies. Be sure to start your day off right with a dose of BT-Breakfast Television with Simi & Dave starting at 6am. Big THANKS to Ashley over at Citytv for setting us up!
---
HELP WANTED: Event Coordinator


Saturday, February 23, 2008

The Big Chop is looking to hire an Event Coordinator to help out with the Big Chop this year. This is a contract position that would require your attendance at each of the ten races in the series. If you are interested, please click HERE for more details.
---
MEC IS BACK!


Saturday, February 23, 2008
The Big Chop is happy to announce the return of Mountain Equipment Co-op as the title sponsor of the series. MEC, with stores in on Broadway and in North Vancouver, continues to be the 'go to' store to find all your paddling and outdoor gear.
We would like to extend a BIG thanks to Mark Kelly and all the staff at MEC for their support of the Big Chop!
MEC will be hosting free 'learn to kayak' demos before every race. Also, look for a ton of great prizes from MEC to be drawn after every race.
---
PROMOTING UNDER THE DOME


Saturday, February 23, 2008
It was a fun filled time under the dome last weekend as the Big Chop was out spreading the good word during the Outdoor Adventure Show. Ryan Pogue (Pogue Sports) and Bryan Tasaka (Mind Over Mountain Adventure Racing) created a forest display complete with real trees and fake rocks from the Vancouver Film Studio. We also had the Berg Bike on display along with a really flashy kayak.
Thanks to everyone for stopping by to say hi or to ask us what the Big Chop is all about! Remember the season starts on May 1st and we have tons of prizes already lined up including some REALLY BIG ones!
Tell your friends!
---
BE A BIG CHOP SPONSOR!


Thursday, February 14, 2008

The Big Chop is inviting businesses to join our 2008 Team of Sponsors. We are offering a variety of sponorship package with excellent value that will help your business strengthen its brand image with the paddling world. If you or someone you know has a business that interested in being part of the Big Chop, please have them call Bryan at 604-999-3331 or email info@bigchop.ca.
---
GET READY FOR 2008!


Wednesday, January 30, 2008

Planning for the 2nd Annual MEC Big Chop Summer Paddle Series is now underway. The 10 race series will return on Thursday, May 1st, with the same great times, heaps of prizing, and mouth watering smokies! Mark your calendars, save the date, and tell your friends!
---
---
Copyright © 2010 Mind Over Mountain Event Co. Ltd. & Pogue Sports Inc. All right reserved.